Visa. Never-ending topic for all of us who've spent some years in Australia, but wern't born here. Yes, and PR is another one.
Anytime I spoke to my uni classmates in Brisbane, this topic had to come up.
Once I was granted my two year graduate visa, I didn't want to hear the word 'visa' for a long time and I gave myself a break.
What is next?
Approximately a year after I started my graduate visa, I got a contact to a visa agent from my friend. Just to have a chat about my future in Australia.
My eyes were pretty much set on skilled visa, I had studies accounting and worked as an assistant of accountant.
The phone call with Marek (the agent) was quite eyeopening. It has turned out, that my studies of accounting (that cost me at lease $32K), my experience in finance, accounting and the fact I live in regional area (yes, Gold Coast is considered as a regional area, bad joke lol), all this was pointless.
"That's a great news after all the sacrifice", I am thinking to myself.
Skilled visa would be an option for me, if I was a "manager" on paper. However, I wanted to quit this job anyways so I didn't even want to think about it. And yes, I quit the job soon.
Marek was very direct during this phone call and asked me, if I had an Australian partner. I knew where the conversion was going and I didn't like it. At this point, I was not sure if I wanted to stay in Oz, so committing to the challenging and expensive process in the midst of my confusion while dragging another person into this didn't seem to be a good idea.
So, I decided to do something what worked for me so many times in the past - I decided to rely on another person, person who can and MUST make this decision - this person is Simona from the future.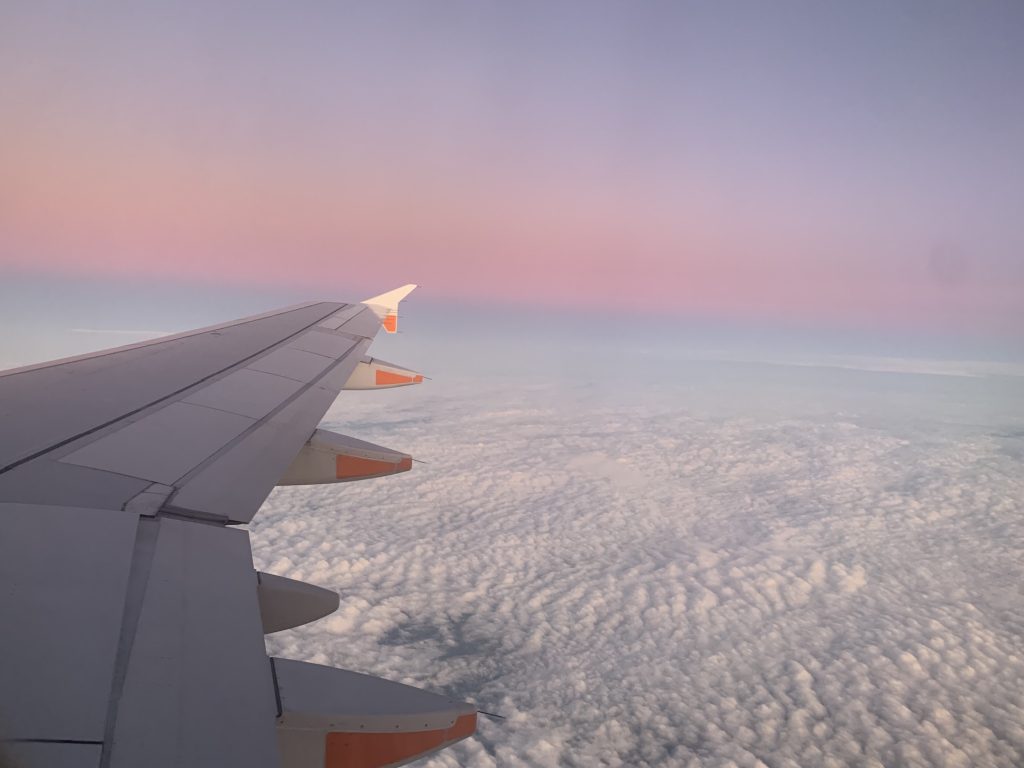 When future is here
Another year past, we had another, very rainy summer, went to some trip, to some beautiful wedding, everything was lovely and all of a sudden, I was just like "let's do it". I had around four months till my graduate visa expiry. We didn't want to be panicking, so decided to use the agent. I emailed to Marek and the fun begun.
Is it like in a movie?
No, we won't have an interview where they will ask us questions to find out if know our favourite colours, meals etc.
Yes, we have to prove that we are serious about each other and we are not just flatmates.
Was there anything surprising?
Not really, I was expecting a lot of paperwork, however I must say, that I thought we just needed to prove that we're dating and that would be it.
It's tad more complicated - our relationship was not in question. What they were looking at was how serious it is, that wanted to see, that we were true "de facto partners". I was told that our relationship must appear to be more serious tha of people who were engaged.
Wtf?
My mind couldn't comprehend this first, however Marek explained to me, that sometimes people get engaged but they don't even share their finance yet and don't operate as family yet.
The Process
This visa is being granted in two steps. The first step is Temporary Partner visa, subclass 820 and this visa is granted within two years since the application. In my case, it took exactly six months.
If your previous visa meanwhile expire, it's not an issue. You will be granted bridging visa until your 820 has been granted.
Just a heads up, if you want to travel outside of Australia, you need to upgrade your bridging visa to type B.
You can also apply for your medicare during this stage. You don't need to have visa approved for this to happen, all you need is to submit your visa application and then you can apply for medicare.
I haven't tried to use my medicare card yet - it does not apply for dentist and I was choosing my GP ages ago, bulk billing did not apply to me. As a student, I always paid out of pocket anyways. So I am still paying out of pocket now.
However, it feels good knowing, that if something happens to me, I won't get bankrupted due to medical bills. And also that I don't need to pay medical insurance that is compulsory for overseas students and work and holiday makers.
Stage two
This stage will commence two years since our first application. So even though I've been granted my temporary visa already, I can't do anything more now.
There are two ways this period can be shorter than two years - if the stage two and one are granted in one go and this happens if: udeliť naraz:
if you are able to prove that you are with your de facto partner at least for three years
if you are with your de facto partner at least for two years and you have a child together
It's important to understand what I have mentioned above - being in de facto relationship is much more than just dating. So even though I had been with my partner for three and half years at the time of the application, we only had been de facto partners for nearly two years. According to the evidence we were able to provide, we started to be de facto since the day we moved in together for the first time.
Another annoying fact is, that PR is not a citizenship, so once I have PR, I still don't have Australian passport and during the next 5 years I have to spend certain time in Australia, to avoid losing my residency status.
Where to start and what to provide?
We were documenting four aspects of our relationship
Finances
Social matters
Household
Commitment
Finances
It is ideal, if you have a joint account. My opinion is, that is 2022 and it's silly and i was thinking the same in 2012 and 2002. Of course, whatever floats your boat.
We did not have a joint account, so both of us had to print our bank statements for the last 12 months and highlight all the transactions between each other. For example, if we sent each other money for a bigger grocery shopping, for dinner, etc.
I was very please to discovery a bank statement with a memo from my partner - it went 'for sexual services'. To make it look even worse, there was another transaction underneath - 'meat' (I don't really eat meat, so he always sends me money when I go to the butcher for him).
I hope that our officer had a sense of humour. Either way, this bank statements highlighting was a nightmare.
We had also given each other access to our bank accounts and credit cards and attached that.
Despite having the first stage granted, we are planning to arrange a joint bank account so we can pay the rent and groceries from it. Thanks to this we don't have to highlight the bank statements again for the Stage 2.
Household
Of course, we attached our lease agreements with both our names, scans of documents showing the same addresses, and we explained how we split our household chores in our statements.
Social matters
We attached pictures of us together and ideally with other people too. Thanks to this I realised we don't have that many pictures together and even less with other people, however we found enough.
Commitment
As I have mentioned, both of us had to write a statement describing their own version of the way we met, how our relationship evolved, how we found living together for the first time and what our plans are for the future.
We also had to submit statements describing us a couple, one from a family member and one from a friend.
We had also registered our relationship in Queensland, where we live. This can be quite helpful. You should be de facto partners at least for a year, but if you can't prove it, or you are missing some documents, registration of your relationship can serve you as an 'ace' that compensates for this.
What else?
There are documents we provided which I can't even categorise. Showing a booking of your joint holiday - is it a social aspect?
Either way, we sent to Marek so many things - e.g. bookings of our accomodation and this was hard. I book everything via booking.com and when checked all the past bookings, they were only showing me my name + 1. It could have been anyone (but it wasn't).
Moreover, during the covid times, we did not go anywhere for a good year, since Queensland was either closed, or Scott was working weekends. I guess that our holiday in Europe kinda helped us, we attached our flights and hotel bookings and pictures later on.
Immigration agent - Yes or No?
The biggest value of a cooperation with Marek is that he's been managing us.
We got a list of things to provide and we followed it
We were told if he thought something was not sufficient
He helped us when the immigration officer requested further documents and some of them were literally the same ones we had already provided. If it wasn't for him, I would have been very stressed and my response might have been a bit cranky. However Marek just told us what to send him and prepared & submitted a cover letter.
How much is it?
Here we go, let's talk money - a.k.a. how I was broke one more time
Application - $7,959 including the credit card surgarge
Australian police check - $42 / person
Slovak police check - $77 including a postage
Medical exam – $400 (QLD)
Payment to the agent $3,600 - this is split in between three instalments, the first is paid with the application, the second when the first stage of visa has been approved and the last one after one year since the application.
Then you have some additional costs, let's say a police check from another country if you spent there a total of 12 months or more in last 10 years. Scott had to pay further $430 to get a police check from Canada.
Za certifikát o registrácii vzťahu sme platili okolo $65, preklad rodného listu bol za $45, za preklad čestného vyhlásenia som platila $70.
Zatiaľ nás to stálo dokopy okolo $11,500. Dobrá správa je, že toto je takmer finálna suma, ak nerátam poslednú splátku agentovi.
It's a lot of money, however when I compare it to my tuition fees and multiple visa extensions every year or second year, it is not too bad. At the same time, not everybody pays for school that much as I did. However, even if the school is just $400-500 a month, it builds up, especially when you add visa fees to it. And you still don't have any security on what's going to happen with you.
On top of that, a lot of the cheaper school are so called 'visa schools', these are courses that won't teach students a lot, people just study them to stay here after they run out of all work and holiday visas, etc. or they are just seeking a better job. Yet, even if I see the advantage of partner visa, I would never go for it, if I wouldn't be serious with my partner and couldn't see the future with him. But there are many types of people out there.
Tips
Here are some tips that I got from my former boss, but I didn't follow them:
arrange a joint account - even just for rent payment and grocerries
try to put both of your names to as many bills as possible (e.g. electricity)
if you are as we are - you don't take many pictures of the two of you together, try to get better
if you book anything together, or you have any document that you might be able to use, save it - create a folder in your computer and start filing things
if you are serious together and you are in a state that allows it, think about your relationship registration. It cost nearly nothing and it helps. I think you can do it in any state except Western Australia and Northern Territory
This visa is not complicated, it's just time demanding. For weeks I spent each night after work sitting in front of the computer looking for pictures, emails, bookings, highlighting bank statements, writing statements, we went to the banks or to see a JP on weekends. A lot of paperwork to prepare.
The Relief
When I am reading this, I am glad that the most of it is behind us. Not just because of the money, it just feels like something has been achieved and it's done.
It didn't hit me right away, it was 5am when I opened an email from Marek, looking at it for a while. I looked at Scott, saying 'we've just got the visa' and we laughed. I was thinking about it during the day of course - basically, nothing changed. However, then it hit me. All those years I was chasing the 'carrot' - like a silly donkey.
I wanted to finish the uni, then the life coaching course, to get a visa, to save money for a cabin (that's a new one) and I had a dilemma if to save money as crazy and work more, or if to work less and do what I like. And this day, I just thought 'enough'. No more. I am going to enjoy my life, I am not going to wait anymore. I will be saving money, but not as crazy, I am not going to hold my breath till everything is finished. It's finished already. And the main idea has nothing to do with the visa, the visa just helped me to understand it.